Eye residents object to waste-incinerator plans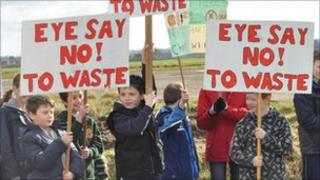 Over 200 people gathered in Eye on Sunday to show their objection to plans to use part of the old airfield as a potential waste-incinerator site.
MPs David Ruffley and Daniel Poulter and the Suffolk Preservation Society backed calls for a re-think on how the Waste Core Strategy is developed.
The strategy is to be adopted in March.
Suffolk County Council has identified Eye, Great Blakenham and Sproughton as potentially suitable for waste-treatment plants.
Simon Cairns, director of Suffolk Preservation Society, said he was concerned about the increase in traffic.
"The site is as remote as you can get from the points that waste is created," said Mr Cairns.
"So we're looking at HGVs using fossil fuels transporting waste across the county and potentially doing a lot of damage to rural communities and the quality of their environment."
'Mark in the sand'
Mr Ruffley, Conservative MP for Bury St Edmunds, and Dr Poulter, Conservative MP for Central Suffolk and North Ipswich, said they would oppose any plans to dispose of waste at the former airfield.
"We're trying to put a mark in the sand and say if a planning application is brought forward for the site we'll be fighting it tooth and nail," said Dr Poulter.
Mr Ruffley said the Conservative-led county council had not given people enough notice of its plans.
"The parish meetings on my side of the A140 were simply told about this proposal by the council very late in the day," he said.
"It's no use anyone in the council saying it was known about. My mailbag is getting fuller and fuller by the week, with people saying 'what is all this about?'"
'Full rigour'
Conservative county councillor Guy McGregor, portfolio holder for roads, transport and planning, said the MPs had had several chances to express their concerns.
"The Waste Core Strategy is in line with what central government has requested of us and if we don't carry out these particular demands the effects on the council tax payers of Suffolk will be horrendous," he said.
"If we don't have a Waste Core Strategy in place we're not in a position to direct how we deal with residual waste and it will then go to landfill.
"Landfill tax would be imposed upon us at an exponential rate. That landfill tax would fall upon you and me as council tax payers - it doesn't fall upon businesses.
"I must stress that no plant will be built without the full rigour of a planning application and as we speak at the moment no planning application has been put on the table, no planning application is before us."