Holywells High renamed Ipswich Academy by Swedish firm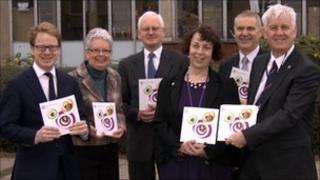 Holywells High in Ipswich has become an academy school sponsored by a Swedish educational company.
The school is now called the Ipswich Academy, it has a new uniform and will have its own sixth form in September.
Nancy Robinson, principal, said: "Every student will have personalised tutorial time each week which is really key to them achieving their potential."
Some teaching unions are claiming academies are less accountable to parents and communities.
The school, which is in the Priory Heath area of Ipswich, was placed in "special measures" by government Ofsted inspectors from 2001-4.
The government-funded academy is being run by the Learning Schools Trust on behalf of the Swedish company Kunskapsskolan.
Role models
Pupils currently travel to nearby Copleston High for sixth form, but the academy will have its own sixth form.
Ms Robinson said it would provide "role models".
She added: "Our specialism is business and we want to encourage [pupils] to go into internships and to appreciate the entrepreneurial spirit which will enable them to achieve great things."
Teaching unions have been critical of the move out of county council control which now affects five academy schools in Suffolk.
Steve Crighton, Suffolk branch secretary of the Association of Teachers and Lecturers, said: "It's a break-up of the education system and is going to create lots of little quangos which will have no way of being accountable to the local community."
John Baumber, chief executive of Learning Schools Trust said: "There was a bit of a bumpy ride to start with because the community initially hadn't been involved in the choice of sponsor.
"Overwhelmingly we've had support from staff, students and parents."
Ipswich Academy is planning on building and moving to a new site next to Gainsborough Sports Centre in 2013.