Thieves 'inept', says Bury St Edmunds robbery hero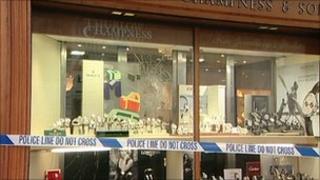 A 70-year-old man who thwarted an armed robbery at a jewellers in Suffolk has spoken to the BBC about the "inept" thieves who fled empty-handed.
Four robbers, wearing black motorcycle helmets, raided Thurlow Champness jewellers at Abbeygate Street, Bury St Edmunds, on Monday morning.
One man, wielding a sledgehammer, ran from the shop with a bag of jewellery, but it was grabbed by the man.
Michael said he did not feel threatened by the "inept" thieves.
Michael, who has asked for his surname to be withheld, told BBC Look East that he was walking along Abbeygate Street when he became aware of a robbery taking place.
"I ran into the shop to see what was going on," he said.
Once in the jewellers he saw a man with a sledgehammer who looked at him
"I did not feel that threatened. I did not feel he was going to smash my head in," he said.
Michael grabbed at the robber and got hold of the "swag bag".
The robbers made off on motorcycles empty-handed.
"I thought he was very young and it was a very inept robbery and not successful," he added.
"I am quite pleased I did something positive. I have never done this before. I am not the sort of person who goes looking for trouble."
Two of the motorcycles used in the robbery were found abandoned nearby on Long Brackland.
Anyone with any information is asked to call Suffolk Police.