EACH appeal for children's hospice reaches £3m target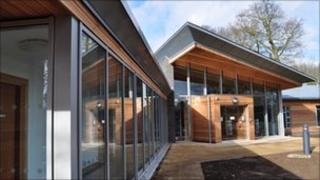 An appeal to raise money for a new children's hospice for Suffolk and north Essex has reached its target less than a year after it was launched.
East Anglia's Children's Hospices (EACH) needed £3m to build and equip the new hospice when it outgrew its three-bedroomed bungalow in Ipswich.
The charity began its Treehouse Appeal in March 2010 and reached its target on Friday.
The appeal was supported by BBC Suffolk and the East Anglian Daily Times.
The new hospice will provide care and support for life-threatened children and their families.
Set in mature woodland in a single-storey building, the hospice has purpose-built rooms and equipment, including a hydrotherapy pool and sensory room.
Melanie Chew, director of fundraising at EACH, said she had been overwhelmed by the support.
"The community has exceeded all expectation and we would like to express out heartfelt thanks to everyone who has played a part in reaching this goal," she said.
"The Treehouse Appeal has provided us with a brand new purpose-built hospice with the potential to deliver better care to a greater number of families across Suffolk and North Essex.
"To achieve this, we hope those who have been a part of the Treehouse Appeal will continue to support us so we can continue to deliver vital care and support to those who need us most."
Nine-year-old Bethany Woods suffers from muscular dystrophy. She has been receiving care at the bungalow and was given a tour of the new hospice.
"I think it's really great," she said.
"I can play hide and seek, which I couldn't do at the other hospice. When it's time to go home, I can just hide. I don't have to go home."
Ben Gummer, Conservative MP for Ipswich, said: "Well done to Radio Suffolk and the East Anglian Daily Times who have made this possible by keeping the heat on.
"This has been a consistent effort from everyone all the way through. Well done to the listeners."
BBC Suffolk Editor Peter Cook said: "Those who've seen the current hospice know just how much the new one is needed and we know it will make a big difference to the families who need it.
"We've always known how special our listeners are but this time they've astounded us with their response to our rallying call and their generosity."
It is hoped the new hospice will be open by the summer.
Totaliser
The appeal has reached its target, but fundraising continues for the day-to-day running of the three EACH hospices in Norfolk, Suffolk and Cambridgeshire.
The Treehouse Appeal golf tournament and dragon boat festival are two fundraising events taking place later this year.