Arrest following thwarted robbery in Bury St Edmunds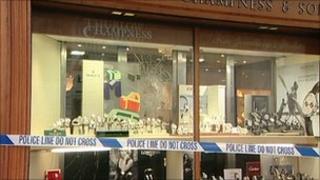 A man has been arrested in connection with a robbery at a jewellers which was thwarted by a 70-year-old.
Four robbers wearing black motorcycle helmets raided Thurlow Champness jewellers at Abbeygate Street, Bury St Edmunds, on Monday morning.
One man, wielding a sledgehammer, ran from the shop with a bag of jewellery, but it was grabbed by the man.
Police said a 32-year-old man from Islington was being held at a police station in London.
Police said inquiries were continuing and anyone with information was asked to call Suffolk Police.