Bail for man arrested in thwarted robbery inquiry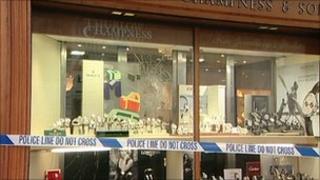 A man has been bailed after questioning about a robbery at a jewellers which was thwarted by a 70-year-old man.
Four robbers wearing black motorcycle helmets raided Thurlow Champness jewellers at Abbeygate Street, Bury St Edmunds, on Monday morning.
One man, wielding a sledgehammer, ran from the shop with a bag of jewellery, but it was grabbed by the passer-by.
Police said the 32-year-old man who was arrested must return to Bury St Edmunds Police Station on 25 May.
Police said inquiries were continuing and anyone with information was asked to call Suffolk Police.