Suffolk knight John de la Pole features in armour film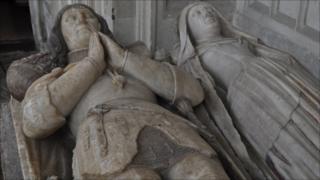 A Suffolk knight is being included in a new film which aims to correct the comedy image of men who can barely move in their heavy armour.
St Andrew's Church, Wingfield contains a tomb and effigy of John de la Pole.
The Reverend Fiona Newton said: "It's an amazing privilege as a priest to stand there with the memories of the past swirling around."
Nick Da Costa's film will show how armour evolved to become lighter and more nimble.
Ms Newton said: "It is the most stunning tomb. The church is always open, so you can go in and see it.
"He's been lying there next to his wife for over 500 years."
John de la Pole, who died in 1491, held the title Duke of Suffolk.
His wife, Elizabeth Plantagenet, was the sister of Edward IV and Richard III and the couple's tombs lie in the chancel of the church.
Detailed armour
The vicar added: "The point of this is that he's got very good detailed armour on, but he was a really important person who was mentioned by Shakespeare.
"[His tomb] is right up near the altar, which is interesting itself, because it shows it's been there for so long because the priests seats, which in most churches are on the left hand side of the altar, are on the right as you look at the altar table.
"So it's another sign that this effigy has been there for hundreds of years."
Director Nick Da Costa of Wide Angle specialises in historical films and he will use the effigies at Wingfield to illustate how armour has evolved.
The film company's website states: "We'll also be laying to rest the myth, largely propagated by Hollywood, that the medieval knight was a clumsy oaf, possessing little skill and barely able to move for the weight of his armour.
"Instead, we'll be showing how he was an accomplished martial artist, fit, agile and fearless."
The presenter on the film will be Dr Toby Capewell who lives in Suffolk and is curator of arms and armour at the Wallace Collection in London as well as being the holder of several jousting titles.
The film is in production and you can watch a taster here.