Boy 'not missed for 40 minutes', Suffolk inquest told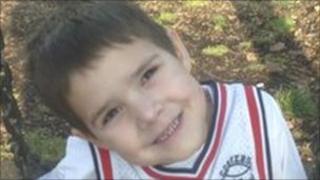 A boy of six, who died after falling into a river while with a Beaver Scout group, may have lain undiscovered for about 40 minutes, an inquest heard.
Alan Lock, of Acton, near Sudbury, was pulled from the River Stour near Ballingdon Bridge in June 2009, the Bury St Edmunds hearing was told.
A bang which could have been caused by Alan's fall was heard as the group stood on a bridge over the river.
It was not until about 40 minutes later that Alan's body was found.
The youngster was one of 18 Beaver Scouts and four adults taking part in a supervised walk through woods near the river, the inquest heard.
'Noise dismissed'
Group leaders had carried out a "head count" just after the start of the 45 to 50-minute walk, coroner Dr Peter Dean was told.
Alison Wadley, one of the outing organisers, told how adults and children heard a metallic bang as the group stood on a bridge over the river.
She said there had been no splashing sound and supervisors had checked the river below but could see nothing.
She said she "just dismissed it" and no second head count had been taken.
Dr Dean said Alan's presence had not been noted after that noise was heard.
The inquest was told that the boy's body was found in the river when the group completed a loop and reached the bridge for the second time.
'No second headcount'
Robert Horner, a lawyer representing Alan's family, said the walk started at about 1820 BST on 16 June and Alan's body found at around 1905 BST.
He estimated that nearly 40 minutes could have passed between the hearing of the metallic noise and the discovery of Alan's body.
Dr Dean said supervisors should "probably" have carried out a second head count after hearing the noise, and told the inquest: "If there was enough concern to be looking around, there was probably enough concern to be doing a head count."
A senior detective has told the inquest that police could not establish how Alan got into the water. He said there was no proof that the youngster fell from the bridge.
The hearing continues.