Open verdict on boy's river death near Sudbury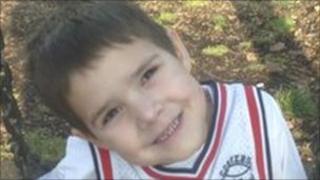 A coroner recorded an open verdict at the inquest into the death of a boy who died after falling into a Suffolk river while on a Beaver Scout group trip.
Alan Lock, six, of Acton, near Sudbury, was pulled from the River Stour near Ballingdon Bridge in June 2009, the Bury St Edmunds hearing was told.
The youngster was one of 18 Beaver Scouts and four adults taking part in a supervised walk through woods.
Coroner Dr Peter Dean said lessons should be learnt from the death.
After the verdict was delivered, a spokeswoman for Alan's family said the hardest thing for them was the fact they would never know what led to their son to fall into the river.
'Heart problems'
The coroner, Dr Dean, said there were two possible scenarios - that Alan had either fallen off the bridge or made his way down a path overgrown with nettles and brambles and slipped into the river.
The inquest was told that Alan had "underlying heart problems" and it was possible that the boy's heart condition had caused him to lose consciousness and fall.
The inquest heard a bang which could have been caused by Alan's fall was heard as the group stood on a bridge over the river.
It was not until about 40 minutes later that Alan's body was found.
Before the walk started a head count was taken by the supervisors.
'Significant reflection'
Dr Dean said supervisors should "probably" have carried out a second head count after hearing the noise, and told the inquest: "If there was enough concern to be looking around, there was probably enough concern to be doing a head count."
The Scout Association has admitted liability for Alan's death.
Scout Association District Commissioner Stephen Dodd said the "tragedy" had led to "significant reflection".
"The basic procedures of good group management were in place," Mr Dodd told the inquest.
"But I would recognise that the frequency of some of these, such as head counts, were not as sufficient as they should have been."