Woodbridge Tide Mill gets £955,800 Lottery grant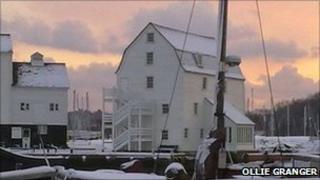 The Heritage Lottery Fund has awarded almost £1m towards the restoration of a Suffolk mill.
The £955,800 grant will be used to build a new wheelhouse, protect foundations and create interactive exhibits at Woodbridge Tide Mill.
There has been a mill on the site since the 12th Century. The current mill was constructed in 1793 and operated until 1957.
Work is due to begin in the summer and the project is expected to cost £1.22m.
Tony Hubbard, chairman of the Woodbridge Tide Mill Trust, said it was a "great thing for Woodbridge and a great thing for Suffolk".
"From an outward appearance it looks as if it's in good order, but it's in quite a bad state of repair.
"There's a risk of it eventually slipping into the river.
"The water wheel itself has broken down recently, we'll be able to put all that right and we've got super plans to bring the whole mill up to date and to make it visitor friendly."