Comic Relief funds Eden's Project youth club in Sudbury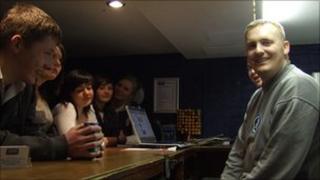 A youth club in Sudbury is benefiting from £10,000 in Comic Relief funding.
The Eden's Project on Gainsborough Street has a budget of £70,000 a year and employs one full-time and two part-time youth workers.
The club is used by around 240 teenagers and offers a hang-out for pool, games, music and other projects.
Stuart Ayling, Eden's Project manager, said: "You need those professional staff to mobilise the volunteers and make things happen."
The centre is open on Tuesdays after school and on Friday and Saturday nights.
"The biggest need is for staffing," said Mr Ayling.
"In this day and age when the funding cuts are there and we are losing statutory sector youth workers, us voluntary sector youth workers actually need to be taking the lead in our communities.
"Our main skill is supporting and mentoring young people and providing a safe and enjoyable place for them to grow up."
'Easy conversation'
The Eden's Project is a Christian-based club which holds a separate session on Sundays which explores faith issues.
The other sessions do not have an overtly religious element, but attract youngsters by providing other methods.
"It's very friendly," said Chris, 15.
"When I first came I felt really weird until Stuart came and welcomed me.
"I got involved with the football team and now work as a volunteer."
April, 12, said: "It's a great place just to hang out and relax and meet people older or younger than you that you haven't met before.
"The staff are really good because they talk to you as if they are one of us and they don't mind what you do just as long as you are having fun."
Neve, 13, said: "Sometime when you have conversations with adults it can get really awkward, but when you have a conversation with the staff here it's really easy."