Suffolk County Council delays care homes sale decision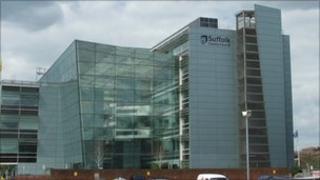 Suffolk's 16 county council care homes for older people will remain in the public sector for at least a year.
The Conservative-run local authority wants to save £125m over the next four years and is looking at options to sell its homes.
The council said its consultation showed 53% of more than 1,000 respondents favoured selling the homes to independent care home providers.
However, 31% said they did not agree with any of the proposed options.
Councillor Colin Noble, who has responsibility for adult services, said: "The key thing is that we're spending £3-4m more by providing our own homes rather than [paying for places] in the private sector."
The 16 care homes provide 526 places while the county council buys 2,300 places in private sector homes.
Three options
The three-month consultation put forward three options for Suffolk County Council:
Close its homes and buy alternative care places in the private sector
Sell the homes as 'going concerns' to the private sector so that residents would not have to move
Shut some homes and sell the remaining homes to the private sector
A further 10% of responders supported the final option, while 6% thought the 16 homes should be closed.
Councillor Inga Lockington, Liberal Democrat spokesperson, said: "All we know is that they're saying they haven't made their mind up precisely yet.
"They started off saying they didn't want to run any of the homes at all - they preferred to close six and sell-off 10.
"[The consultation] was clearly not an open thing to go into when they had already decided that they are not going to run homes in the future."
Mr Noble said: "In May, we will announce which of the options we intend to move forward on and in probably about a year's time you should start to see things happening on the ground."
The results of the public consultation will go before Suffolk County Council's cabinet for the first time at a meeting on Tuesday, 29 March, 2011.