Bishop of St Edmundsbury highlights childhood speech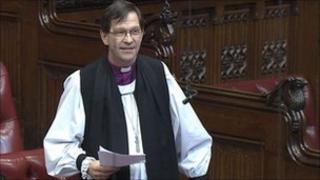 The Bishop of St Edmundsbury and Ipswich has warned of the importance of diagnosing language and communication problems in early childhood.
The Right Reverend Nigel Stock said a majority of youths in detention have poor communication skills.
"There's an interesting statistic that 60% of people in young offenders institutes have some form of communication difficulty," he said.
"Very often, these can be ones that develop in early years."
Bishop Stock used his maiden speech in Parliament to highlight the issue.
He added that intervention work in primary schools was "cost-effective" in the long-run.
'Hidden disability'
The NHS has around 4,000 young people using Suffolk Community Healthcare for problems of speech, language and social interaction.
Peta Cook, paediatrics speech and language therapy manager for NHS Suffolk, said the bishop is right to be concerned with what can be a "hidden disability".
"The child may be speaking, so people might assume that they understand.
"In a classroom setting this causes problems with behaviour and we do know that only 2% of those identified in the criminal justice system had accessed speech and language therapy.
"What that says it that if we get early intervention, then the children have a much better chance."
Schools are taught to look for possible problems with tests for hearing, understanding of single words, short phrases, long phrases, concepts etc.
The local education authority can offer assessments for parents and help for teachers in planning lessons more appropriately.
Claire Bates, early language consultant at Suffolk County Council, said: "There is a body of research that shows that if you don't tackle speech and language difficulties by the age of five-and-a-half, then a child will almost certainly go on to have literacy problems and possibly behavioural problems as well.
"It could be that the child is identified as disruptive or not really listening and be classed as 'the naughty child', but they've actually got speech and language needs.
"Obviously we want to improve the identification of children who have difficulties and we need that to be earlier because there are a lot of children who struggle before they get any help."