BBC Introducing in Suffolk moves to Fridays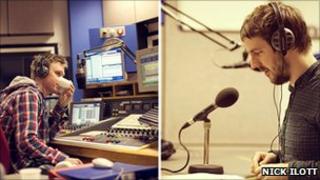 BBC Introducing in Suffolk is moving to Friday evenings.
The show, hosted by Graeme Mac and Richard Haugh, has been on Thursday nights since it began in October 2009.
Close to 200 local artists have featured on the show, with some going on to represent Suffolk at festivals including Glastonbury, Latitude and Harvest at Jimmy's.
From April 2011 the show will be broadcast on Friday nights on BBC Radio Suffolk from 7-8pm.
"We've already got a session with DELS lined up and in May we'll be presenting the show live from Bury St Edmunds," said Richard.
"A lot of bands listening to the show will be playing gigs on Friday nights, so we'll be aiming to celebrate what's happening around the county."
Graeme said: "The show is all about your music, and it continues to impress.
"So much so that our involvement at this year's Latitude Festival has again been rubber stamped, and in our early Friday instalments we will be unveiling the acts going to Henham Park with us."
BBC Introducing supports unsigned, undiscovered and under-the-radar music.
If you're making music, get in touch.
It's easy to submit your music via the BBC Uploader - who knows, you could soon be on BBC Introducing in Suffolk, or one of the national shows on BBC Radio 1, 6 Music or 1Xtra.