Labour shadow Ed Balls attacks Suffolk library cuts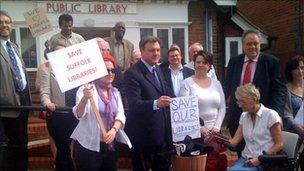 Shadow chancellor Ed Balls has criticised Suffolk County Council's "extreme approach" to reducing its public libraries.
The council is cutting £42.5m from this year's budget due to a decrease in government funding.
Labour MP Mr Balls was in Suffolk when he criticised the proposal to try to get community groups to run 29 of the local authority's 44 libraries.
The council said it had to find new ways of running services to save money.
Mr Balls visited Rosehill Library in Ipswich - one of the 29 "community" libraries in the Conservative-run council's divestment proposal.
He said cuts "have to be made" but described them as being "too deep and too fast".
"I fear that in Suffolk they [the county council] seem to be embracing this ideological desire to get public services out of the way entirely with a bit more relish than most people expected," he said.
"Most people who depend upon libraries would say 'I don't want it to be a lottery depending on whether people are willing to volunteer to keep them open.'"
Councillor Judy Terry, portfolio holder for libraries, said: "Mr Balls talks about closure, but [other county councils] may not be considering [closure] because perhaps they have more money or they're cutting hours and cutting staff.
"We think the better approach is to listen to people and then draw up a model based on what people are saying.
"It may be that some close, but has anyone actually thought that we may open some libraries?"
Ms Terry said she had visited several of the "community" libraries and some of the ideas coming out included having a pub take over internet access while the local school takes over books.
In Clare, there is an idea to combine the library with a country park visitor centre, she said.
Related Internet Links
The BBC is not responsible for the content of external sites.