Calendar Girls productions cancelled in Suffolk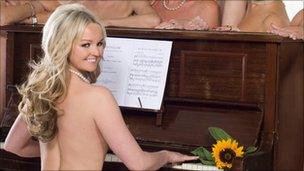 Four theatre groups have cancelled productions after it emerged that five versions of the same hit play were to be staged in an eight-week period.
The amateur dramatics companies, from Ipswich and Felixstowe, were seeking licences to perform Calendar Girls.
The rights-holder is allowing a 12-month window for amateur groups to perform the play for the first time.
"It's been handled very poorly," said Lisa Hardy of Felixstowe's Stage Door Theatre Company.
The play is based on the true story of the members of a branch of the Women's Institute who posed naked for a charity calendar.
The professional production of Calendar Girls is at Ipswich's Regent Theatre from November.
Two amateur companies were hoping to perform the play in 2012 at Felixstowe's Spa Pavilion with three more groups using the Sir John Mills Theatre, Ipswich.
Ms Hardy said local companies "try very hard not to step on each others' toes" and Stage Door had cancelled its production.
"Everybody was just so desperate to get the licence that none of us checked the websites to see what other bits and pieces were going on," she said.
"If this is going on just around Ipswich and Felixstowe, what else is going on?"
Paul Taylor, performing rights director for the licensing agent Samuel French, said: "Everybody is aware that play licences are non-exclusive and there may well be other groups that are doing the same play.
"You just need to be aware of that and check what other people are doing in your area."
The Two Rivers Theatre Company is pressing ahead with its production in Ipswich.
Georgy Jamieson, publicity officer for Two Rivers, said the other groups did not need to cancel.
"I think it's a little bit of a storm in a D-cup, because I think there would be enough interest in this play."
Related Internet Links
The BBC is not responsible for the content of external sites.