Festeaval brings 40 musical acts and more to Woodbridge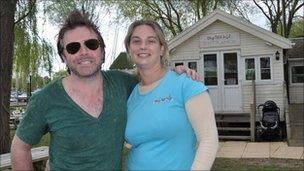 The Kabeedies and Scott Matthews are amongst the 40 acts playing a new festival in Woodbridge.
Festeaval takes place in the garden of the Tea Hut on the weekend of 22-25 April 2011 and will also feature poetry and late night DJs.
The event is being organised by Peter Hepworth and the acts will perform from his converted campervan.
"It's a mixture of the best of homegrown talent and cutting edge musicians from London," said Peter.
The Diarys and The Small Town Bullies complete the list of headliners for the festival, which has taken just six weeks to organise.
Tea Hut manager Penny Bishopp had the idea to stage the event.
"Penny originally said 'let's do a little music festival' and I thought 'that's fine, nice and small over a couple of nights'," said Peter.
"I started organising it and after a couple of days she said 'by the way, you realise it's from Friday to Monday, and I want it from 12 o clock to midnight everyday.
"Four days! I had a bit of a nervous breakdown but got in touch with some friends I used to gig with in London.
"They've all been enthusiastic about the uniqueness of the gig and have all been willing to donate their amazing talents to come down."
Peter said acts have been intrigued and excited by the chance to play on his 1962 VW campervan, which he uses to stage impromptu events around the country.
This, he said, lead to Scott Matthews' involvement.
"It's a real pleasure to have such a talented guy, who won the Ivor Novello award for Elusive, interested in coming down," said Peter.
"I'm just psyched to be hanging out with him to be honest - I'm a big fan and have been for a long time.
"Kal Lavelle is a friend of mine who I used to gig with. She's supporting Ed Sheeran on tour this year and is a fantastic singer/songwriter. Again, it's an honour to have someone like her playing.
"The Diarys supported Ocean Colour Scene last year are one of my favourite bands and are absolutely brilliant.
"We've got opera on the Sunday morning and the only Eigenharp duo in the world - BangStrokeBlow."
The garden has a capacity of 500 and will also house food and drink stalls as well as local crafts and other forms of entertainment, such as fire dancers and stilt walkers.
"The venue hasn't been used to its full capacity and it seems like the ideal location," said Penny Bishopp.
"It's by the water, in the middle of nowhere and it hands itself to this sort of event."
The festival starts at noon every day and runs until midnight, apart from Monday when the event draws to a close at 6.30pm.
The Cheek, Evan from The Kabeedies and Ben Osborne will be DJing after the live music has finished.
Tickets are £35 for the weekend, or £10 per day, and are available from the Tea Hut on 01394 384538.
Related Internet Links
The BBC is not responsible for the content of external sites.