Suffolk vicar lives on Jobseeker's Allowance for Lent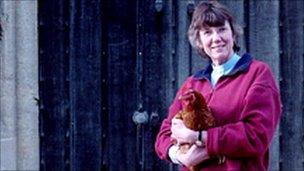 A Suffolk vicar is living on £65 a week for Lent to see what it is like to be on Jobseeker's Allowance (JSA).
The Reverend Ruth Farrell, rector of Woolpit and Drinkstone, has set herself a budget based on what she would get as a single unemployed person.
"It's hopefully going to make me a bit empathetic towards other people," said Ms Farrell.
The rector will donate the difference with her normal salary to the church's hardship fund for local people.
Christians traditionally give up something for their faith during Lent, which this year run from 9 March to 23 April.
Ms Farrell is still carrying out her normal parish duties and is not including car travel and heating her house to receive guests.
Supermarket offers missed
"It's allowing me to understand some of the restrictions and the loss of choice that people face," she said.
She estimates that she usually lives on £600 a month and now has £280.
She has cut back on plants for the garden, fair trade products and she misses out on supermarket offers because she cannot afford to buy in bulk.
"On an emotional level I feel that our benefits are too low, but I am also aware that it is easy to get sucked in and lose your desire to get out there and look for jobs," she said.
Related Internet Links
The BBC is not responsible for the content of external sites.