Suffolk hospices join forces in new merger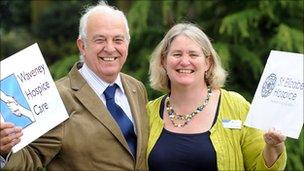 Two hospice charities are merging in a bid to improve end-of-life care across Suffolk.
St Elizabeth Hospice and Waveney Hospice Care will combine their services from May.
Waveney Hospice Care funds day care such as physiotherapy and emotional back up in the Waveney district.
St Elizabeth Hospice provides palliative care and family support at its hospice in Ipswich, and around east Suffolk.
The two charities will now work together under the name St Elizabeth Hospice and said there would not be any job losses.
St Elizabeth Hospice's chief executive Jane Petit said: "The Waveney area has one of the highest needs for end-of-life care in the east of England.
"We believe we can use our expertise to improve services for the Waveney community and work to provide a wider range of services, such as supporting the reinstatement of day care facilities in Lowestoft Hospital."
Waveney Hospice Care's chairman Malcolm Berridge added: "We are confident there will be a continuation of the work we have undertaken over recent years and that St Elizabeth Hospice will maintain the ethos of this work and enhance services."
Related Internet Links
The BBC is not responsible for the content of external sites.