Richard Herring's Lowestoft show angers Christians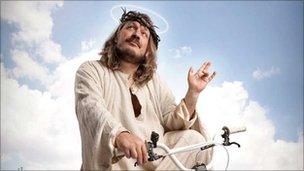 Christians are planning to protest outside a comedy night called Christ On A Bike when it visits Lowestoft.
Richard Herring's show at the Marina Theatre is billed as a humorous look at Jesus, "combining childlike guile with rigorous academic research".
Presbyterians from Oulton Broad claim the show is "blasphemous" and "vulgar".
Matthew Pickhaver, church youth worker, said: "We plan to peacefully stand outside the theatre and give out a simple tract about the real Jesus."
The tour, which also visits Norwich and Colchester, is in Lowestoft on 28 April.
On his Warming Up blog, Mr Herring said: "Some of the more backward people of East Anglia (and imagine how backward that must make them) are planning on protesting, which is probably great news, as that is the one that is selling about the worse so far."
The Reverend Kyle Paisley, from Oulton Broad Presbyterian church, said: "When I looked at the flyer, I marked three things - the vulgarity, the blasphemy and the downright dishonesty of the man.
"We're just using our right as Christians to say how we feel.
"It's infantile. The continual reference to sexual things makes it manifest that Richard Herring hasn't got out of puberty yet."
Mr Herring, who first performed the routine in 2001, spoke on BBC Radio 5 live in December 2010 saying: "Most of the Christians who've come to see it have really enjoyed the show.
"There are a couple of moments where you might squirm in your seat if you are a very strict Christian, but ultimately the show is about taking people on a journey."
The Reverend Michael Eden, of St Peter's and St Mary's church, Stowmarket, is going to watch the show.
"If it gives people the opportunity to talk about what they believe, then I don't see that as a problem," he said.
"I'll be going with an open mind. If he was a politician saying offensive things or inciting hatred that would be different, but, come on, he's a comedian."
Related Internet Links
The BBC is not responsible for the content of external sites.