'Youngest' double murderer Lorraine Thorpe loses appeal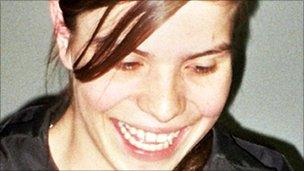 A girl who is thought to be Britain's youngest female double murderer has failed in her appeal against her conviction for one of the killings.
Lorraine Thorpe, of Ipswich, was found guilty at Ipswich Crown Court in August 2010 of murdering her father Desmond Thorpe and a woman called Rosalyn Hunt. She was 15 at the time of the killings.
Thorpe, now 16, was convicted along with Paul Clarke, 41, from Ipswich.
The Appeal Court rejected their appeals in relation to Mr Thorpe's murder.
Lawyers for Thorpe and Clarke told the Court of Appeal the convictions for that murder were unsafe and should be overturned.
During their trial at Ipswich Crown Court, jurors heard evidence from a young friend of Thorpe's who said the girl had confessed to being a murderer.
A prison padre also told the jury she had spoken of her father's killing on the anniversary of his birthday.
Lawyers for the pair claimed that this evidence was inadmissible, although they did not challenge the guilty verdicts over the murder of Ms Hunt.
The pair's trial had heard how in August 2009 Thorpe and Clarke violently tortured Ms Hunt before killing her.
They then killed Mr Thorpe because they feared he might tell others about her murder.
Lord Justice Hughes, sitting with Mr Justice Treacy and Mr Justice Edwards-Stuart, told the Appeal Court that they had no doubt the conviction was safe.
Thorpe will be able to apply for parole after 14 years behind bars, while Clarke's minimum jail term is 27 years.
Related Internet Links
The BBC is not responsible for the content of external sites.