Ipswich v Norwich derby police plan criticised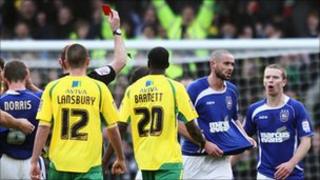 A supporters group has criticised police plans to use 300 officers at the Ipswich v Norwich football derby on Thursday.
Some fans claim hooliganism is so rare that a Saturday kick-off for the fixture could be re-introduced.
Supt John Everett said the police were not "averse to change".
"It's this small minority, and I've no doubt that they will be out looking to cause problems, and they're the people we want to police," he added.
The home and away fixtures have been on Sunday lunchtimes in recent seasons.
This week's match was originally scheduled for Good Friday and the move to Thursday means it will be the first evening kick-off for the fixture since 1998.
"Increased costs"
Ipswich Town Football Club said it was moved "to avoid the possible significantly increased [policing] costs which playing over the Easter holiday period may have generated.
"Supporters have voiced varying concerns over travel difficulties due to a limited bank holiday service as well as a desire to mark Good Friday in a traditional religious manner."
Alasdair Ross, Ipswich Town Independent Supporters Trust, said: "It does seem that a helicopter and the amount of police does seem slightly over-the-top.
"With the proximity of the railway stations to both grounds, it doesn't really need that much.
"Hopefully, if it is peaceful, we can return to playing on a Saturday, even if it's an early kick-off."
"Bad old times"
Suffolk police say the number of officers is needed because their operation will start in the morning and run until midnight or beyond.
Supt Everett said he had worked at these matches for 30 years and "can remember the bad old times and the disorder".
"Behaviour has improved markedly and some of that is down to the way things are policed," he said.
"It's clearly a step along the road by returning to an evening fixture.
"Hopefully everybody will be well-behaved and we can look perhaps to the future to return to Saturday matches."