Two inmates climb on to roof of Blundeston Prison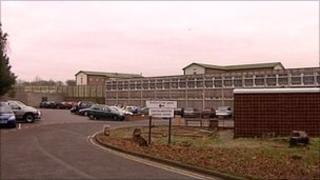 Trained negotiators were called to Blundeston Prison near Lowestoft after two inmates climbed on to its roof.
The men spent more than four hours on the roof of the jail on Wednesday afternoon.
The two men climbed onto a workshop roof at the jail at about 1415 BST and specialist negotiators were sent to talk them down.
A Prison Service spokesman said the incident concluded peacefully at 1825 BST.
He said: "Both the men came down voluntarily. Both the police and the prison will look into what happened and what action to take."
He said the men had not made any demands during their time on the roof.
It is understood their punishment could include solitary confinement.