Bishop of St Edmundsbury's Easter message of hope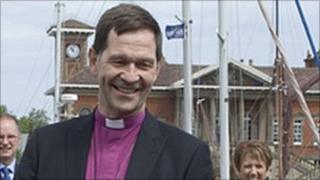 The Bishop of St Edmundsbury & Ipswich is using his Easter message to promote the Christian response to the natural disasters in Japan and New Zealand.
The Right Reverend Nigel Stock says hope and trust should be part of faith in a world where it is easy to be frightened by world events.
He said: "Our world gives us many reasons to be afraid, but the Risen Christ says to us 'do not be afraid'.
"You can be bearers of hope in this life and beyond."
The bishop refers to the Gospel of St Matthew and the reactions of the two Marys to the earthquake and appearance of an angel while they are at the tomb of Jesus.
Bishop Stock said: "Yet the two women leave that place, admittedly still fearful, but also joyful.
"Then the account goes on they meet Jesus, again he says 'do not be afraid'.
"This time they are overcome with a different feeling, the longing to fall at his feet and worship him."
The bishop said the Christians in Christchurch in New Zealand and in Japan might be particularly struck by the stories of resurrection in Matthew.
"For them earthquakes have been a frightening and tragic reality.
"But the Risen Christ had the wonderful effect of giving a profound hope to his fearful and demoralised followers, who were able to receive his commission to tell the Good News to all the world.
"Those disciples trusted in the Risen Lord, so that they were able to do things beyond what they believed possible.
"They were given profound Hope, that was far more than wishful thinking, but became a deep trust in the love of God in Jesus Christ."