Ipswich museum in bid to save Iceni gold hoard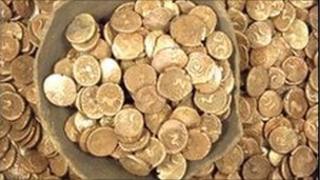 A museum needs to raise £300,000 by the end of June to keep a hoard of Iron Age gold coins in Suffolk.
The 840 embossed coins, called the Wickham Market Hoard, were buried 2,000 years ago by Iceni tribesmen later led by Boudicca against the Romans.
The stash was found by a metal detector operator in a field near Wickham Market in 2008 and declared treasure.
The Colchester and Ipswich Museum Service has made a fast-track bid to the Heritage Lottery Fund.
'Most outstanding treasure'
"The opportunity to purchase the Wickham Market coin hoard is the first time we could retain a national treasure in Suffolk," said Caroline McDonald, curator of archaeology at Ipswich museum.
"It will be far better appreciated and understood here and gives everyone in the county something to be proud about.
"Suffolk earth has revealed some of the nation's most outstanding treasure in recent decades.
"The amazing Anglo Saxon ship burial at Sutton Hoo, the silver Roman dinner service found at Mildenhall during World War II and more recently the Hoxne Hoard of Roman coins and artefacts found in the 1990s.
"All of these finds are now in London at the British Museum."
Two hundred of the coins will be on show at Ipswich Museum from 3 May until 10 June.
"Until we raise all of the money this may be the only chance to see some of the hoard on display in Suffolk," said Ms McDonald.