Jennifer Toombs: Suffolk's international stamp artist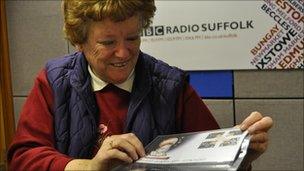 A Suffolk artist who has produced postage stamps for countries around the world says she still dreams of designing stamps for the Royal Mail.
Jennifer Toombs started her career in 1965, when she designed a stamp to mark the death of Winston Churchill.
Her work was not selected by the Royal Mail, but Jennifer has gone on to hand-draw stamps for over 50 countries.
"To design for the Royal Mail would be the cherry on the top," she said. "I'm happy to tackle anything that's going."
Ms Toombs has, however, already received royal approval.
"If I'm showing the Queen's portrait or the royal cypher, at the artwork stage the designs go to Her Majesty for her approval," she said.
"I've had some very good comments via the Home Office.
"In fact I got a letter complimenting me on the first definitive designs I did for Pitcairn Islands.
"I was thrilled to bits."
Ms Toombs said the Queen will also have approved the four stamps she designed to mark the 200th anniversary of Charles Darwin's birth, again for Pitcairn Islands.
"There was a very tenuous link between Darwin and Pitcairn," said Ms Toombs.
"The oldest resident of Pitcairn is a Galapagos tortoise [a species Darwin studied] called Mrs Turpin and I think she's meant to be 150-200 years old."
Ms Toombs also designs Royal Mail first-day covers - cards which all of the stamps of a series are mounted on.
"I'm called on to design all sorts of things - Kew Gardens, Harry Potter, Lord of the Rings, James Bond and The Beatles," she said.
"I get sent the blank covers with the stamps on and have to do a hand-painted design at the side to blend in with the stamps."
Ms Toombs' work has become collectable and is described as 'Toombsiana'.
One fan, Eric Waldock, created a comprehensive catalogue of her work in 2001.
This has been continued after Mr Waldock's death by another fan, Rob van der Nol.
"It's surprising how many people collect my work," said Ms Toombs.
She said the most sought-after stamp in her catalogue is the Jamaica Human Rights issue for 1968.
"It went to press and was printed, but right at the last minute it was withdrawn.
"I'm not sure why - for some political reason. I'm not sure if any are still out there."
Ms Toombs said she is encouraged by a couple of thriving stamp clubs in Glasgow, but on the whole believes the tradition of collecting has started to wind down.
She said the stamps themselves are largely being produced by "art studios rather than individuals".
When she does receive a commission her process is to research the subject thoroughly before sketching the designs in actual size.
Once the design has been approved, Ms Toombs draws the final piece at four times the size of the postage stamp and submits it for printing.
"Nowadays the printing methods are very sophisticated and the colour-matching is superb, but in times past I've sometimes found the colours weren't what I wanted."
Ms Toombs is continuing to design first-day covers and has also provided illustrations for two books, about a friend's cat and his adventures in East Suffolk and the Lake District.
There is also a hope that stamps she designed several years ago portraying Benjamin Britten could be picked up by the Royal Mail.
"I was invited by what was then the General Post Office to design some stamps for a forthcoming music issue.
"I was particularly pleased with the designs I did for Britten because it was the Aldeburgh Festival that first brought me to Suffolk.
"I produced several designs and put several essays to the Royal Mail, but alas they were turned down in favour of someone else's designs showing four British conductors.
"But I've kept the sketches I did in the hope that one day they'll be used - especially for the centenary of his birth coming up in 2013."
Related Internet Links
The BBC is not responsible for the content of external sites.