Royal wedding street party on Ipswich estate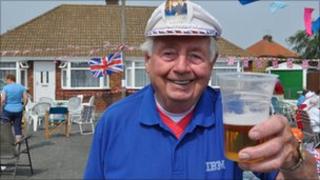 Organisers of a royal wedding street party in Ipswich said it was an opportunity to foster community spirit.
About 100 people were celebrating the wedding of the Duke and Duchess of Cambridge on Grasmere Close in the Gainsborough area.
"It depends what you want out of life," said Les May, who was organising it.
"A lot of people just want to sit indoors and watch the television. It's a great idea if you can get more neighbours talking and being friendly."
Grasmere Close is a cul-de-sac of bungalows with older residents.
Mr May is part of the Neighbourhood Watch scheme, so getting insurance for the street party was already covered by an existing arrangement with the police.
Gaining permissions from neighbours, the police and Ipswich Borough Council did not cost any money.
Food, raffle prizes and entertainment were provided by volunteers.
Mr May said: "If you're with a friendly crowd of neighbours it's good to have things like this, barbecues and Christmas dinners.
"If you invite some of your own friends hopefully they will say 'well let's get that going in our neighbourhood'."