Clare Priory boosted by new priests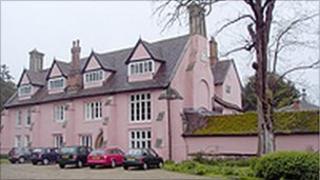 A community of Augustinian friars in Suffolk has had three new priests join them in the last two years.
"That's a sign we've all been waiting for," said Father David Middleton from Clare Priory.
"We could always do with more, we've had a real period of drought, so we do need recruits."
The Priory was established in 1248 at the invitation of Richard de Clare.
It was the first house of the Augustinian Friars in England and is now one of the oldest religious houses in England.
Today the priory acts as a Roman Catholic parish church and as a retreat centre.
National gathering
On Sunday, 8 May it is hosting its annual pilgrimage day with people from Augustinian parishes all over the country heading to Suffolk.
"I started there as a novice 50 years ago, and gradually the stream of new recruits dried up," said Father David.
"So we had to find a new purpose for it and it became a house of prayer or retreat, people come and spend time there, praying and having some spiritual counselling.
"A lot of people find life pretty hectic and people come in various situations, some of them very anxious about things, and they just need to get a little bit of calm and perspective and perhaps find God in what they are doing.
"We have set up a community in London where men, because we're not a women's order, can come and look at their life over a year and live in a community.
"They can make a decision about what they are going to do. It's not precisely for us, but a service for the church.
"Some of them will continue to be preists, and we hope some will continue with us.
"So out of the last two years of this community, we've gained three young men who've asked to join us."
The day of pilgrimage includes prayer, a picnic and afternoon mass.
"We invite people from our own parishes, and we've got one in Birmingham and two in London, one on the South coast and in Edinburgh," said Father David.
"We have a day of prayer and a procession in honour of Our Lady, because our church and our community are dedicated to Our Lady, Mother of Good Council."