Suffolk director fined £2,500 over unsafe toys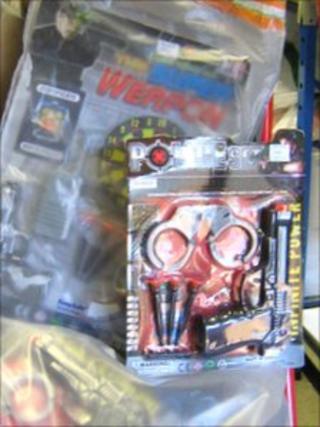 A company director from Suffolk has been fined £2,500, and ordered to pay full costs of nearly £7,500, for importing and selling unsafe toys.
Ian Ford, 71, of The Gardens, Norton, near Bury St Edmunds, admitted 12 charges of breaching consumer protection law, the court service said.
His firm IKF International Ltd distributed plastic toy guns and a bow.
Bury St Edmunds magistrates heard the toys did not meet toy safety standards.
The suction cups on the arrows and darts could easily become detached and posed a choking risk for young children, the court was told.
Suffolk County Council's trading standards added that the court ordered that nearly 5,000 toys seized from the company should be destroyed.
Colin Spence, the council's portfolio holder for public protection, said: "I am confident that this case will serve as a warning to other toy importers and retailers that unsafe toys will not be tolerated.
"Mr Ford failed to ensure that the toys he imported and sold to UK retailers were safe, and as a direct consequence put children's lives at serious risk of injury and death across the country."