John Peel's wife to perform at Stowmarket Festival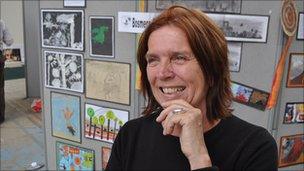 John Peel's widow will be performing at this year's Stowmarket Festival at the arts centre named after the late Radio 1 presenter.
A total of £1m is being spent turning the town's Corn Exchange into the John Peel Centre for Creative Arts.
Peel's wife Sheila Ravenscroft will be performing with the Stowmarket Chorale during the festival, which runs from 27 May to 11 June 2011.
"He would have been here with his sleeves rolled up himself," she said.
The building reopened for limited use last year but is still essentially a large empty room.
For the Stowmarket Festival, the centre plays host to a local schools art show, African Dance Workshop, Made In Stowmarket exhibition and an evening with the Stowmarket Concert Band and Stowmarket Chorale.
Ms Ravenscroft said it would eventually be "an arts centre that offers a lot of things to a lot of people".
"John had catholic tastes, so it wasn't just about loud music. He played all sorts of music and that's what we'll be doing," she said.
"It will be fully developed so that we have rehearsal rooms, performance space and hopefully lots and lots of people will use it."
The venue is being run as a not-for-profit community interest company.
Board member Tom Barker said: "This building means a massive amount to me and I remember coming here when it was Movieland Cinema.
"For the last 15 years it's stood looking increasingly sad, becoming increasingly derelict and it's incredible to be part of a project than can take an important building and make it into something truly inspirational and iconic."
John Spitzer, chairman of the board, said: "It started as a project to address a lack of activities for young people.
"In my role as Mid Suffolk District Council community safety manager, we looked at having a youth nightclub in this building, but we quickly realised the project was much bigger than just youth.
"It was for the community to take charge of and run with, which is what's happened."
A Huddersfield University architecture student won a competition to design the interior of the building.
The venue will close in August for phase II of the development when £100,000 will be spent on the floor, the entrance and new windows.
Mr Barker said they are still seeking money: "Funding's an incredibly difficult thing.
"We're aware of the squeeze on public funding and we've had no funding from any local authorities.
"We're reliant on grant funding, our own fundraising gigs, other people have held gigs on our behalf and we're also looking for sponsorship and donations."
Phase III - £800,000 on the interior design - is expected to begin in 2012.
Ms Ravenscroft, who brought up the couple's four children in the area, said: "They had nothing like this at all and were quite often bored.
"When I look at this now, this would have been perfect for them."
Related Internet Links
The BBC is not responsible for the content of external sites.