Suffolk County Council's Mark Bee says it 'will listen'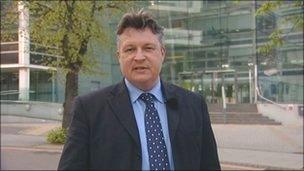 Mark Bee has said the Conservative-led Suffolk County Council will spend more time listening to the public and working with other political parties.
The council's new leader said he wanted to move away from the "one fix" solution in policies designed to deal with budget challenges.
"It's a diverse county and a blanket solution is not going to be one that can be used across Suffolk," he said.
Both Labour and the Lib Dems said they were sceptical.
Speaking on the first day of his leadership, Mr Bee said he wants the cabinet to meet in locations around the county, rather than solely at the Endeavour House headquarters in Ipswich.
"We've got to work with the various communities, we've got to work with district and borough councillors, members of parties and the various interest groups around the county to ensure that we can hear what they want and we can work with them in real partnership," he said.
Mr Bee spoke about the public's reaction to cuts to school crossing patrols, country parks, household waste sites and discounted travel for young people.
Cuts in government spending meant the council had to make £43m of savings in 2011/2012, but opposition parties accused the administration of failing to consult the public.
"I think that's one of the big lessons we've learned and one of the first things I've said is we would pause, we would stop and look at that.
"Where it went wrong before is they should have taken more time working with communities to try to find a way forward."
Mr Bee will have to oversee a further £80m of savings over the next three years.
"We've got to look at the way we run ourselves, we've got to look at the back office, the infrastructure and perhaps our property portfolio," he said.
"There are savings that can be made and I think you can do that in such a way that you can preserve front line services."
Sandy Martin, leader of the Labour group, cautiously welcomed Mr Bee's invitation to work together.
"It's the Conservative administration that has been running the council, it's the Conservative administration that has been putting forward the cuts that we've come across so far and it is the Conservative administration that will continue to make the cuts on the county council," he said.
"Anybody who thinks that continued policy decisions will have a real input from the Labour or Liberal Democrat councillors is probably in a fantasy world."
Kathy Pollard, leader of the Liberal Democrats, said she wanted proof that Mr Bee would improve lines of communication with the public.
"I don't hear any real change in the policy of listening to the people of Suffolk," she said.