Study may help endangered white clawed crayfish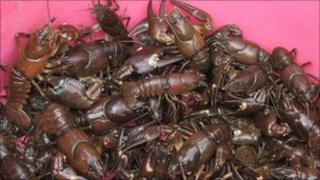 The future of white clawed crayfish in Suffolk could be helped by a new study.
The native species is under threat from red signal crayfish, which were introduced to the UK in the 1970s and now dominate rivers.
Traps are being laid in the Brecks, on the Suffolk and Norfolk border, to see if the signal crayfish can be managed.
"Signal crayfish are having a catastrophic impact on white clawed crayfish", said Abby Stancliffe-Vaughan, who is organising the study.
Ms Stancliffe-Vaughan, a PhD student, said the biodiversity of the rivers was also under threat due to the erosion and siltation caused by the signal crayfish.
"I don't think we'll ever completely clear our rivers of red signal crayfish," she said. "They are a very prevalent species."
Fertile creatures
"They are bigger than white-clawed crayfish and are more fertile. But they also carry a disease which is fatal to the native species.
"Although they live in rivers and streams they can survive on land too. This means there isn't a control method in their population as they won't run out of food or habitat."
Once the crayfish have been trapped Ms Stancliffe-Vaughan measures and tags them before recording the data.
By laying the traps in specific sites she is also hoping to monitor what effect trapping has on the species.
"Trapping is known to remove larger crayfish first," she said.
"But as these are the most reproductively active this could have a long-term effect in reducing their population.
"There is a theory that trapping could actually increase signal crayfish numbers. So far the results of my study seem to dispel that.
"As there are no limiting factors for the increase in crayfish numbers the only thing you can do to control numbers is to go for a removal strategy."
Early results from the trial have been encouraging and where traps have been placed there are signs that the vegetation and biodiversity of the river is improving.