Parade celebrates Ipswich Air Corps Afghan return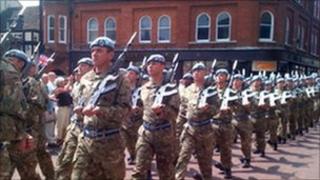 More than 250 soldiers have marched through Ipswich to mark their return from a tour of duty in Afghanistan.
The 4 Regiment Army Air Corps holds the Freedom of the Borough and will hold a parade and service of thanksgiving at the Cenotaph in Christchurch Park.
The Wattisham-based regiment is marking its return after a year-long tour of duty operating the Apache attack helicopters in Afghanistan.
The 90th anniversary of the Royal British Legion will also be marked.
A 4 Regiment Army Air Corps helicopter landed in front of Christchurch Mansion, in the park, and were greeted by civic leaders.
Major Tom Hargreave, the regiment's acting commanding officer, said: "This is our opportunity to give something back to the people of Ipswich, in recognition of the outstanding support they provide.
"Soldiers and their families are all made to feel part of the local community, particularly during our deployment in Afghanistan."