Suffolk libraries: campaigners' anger at budget cuts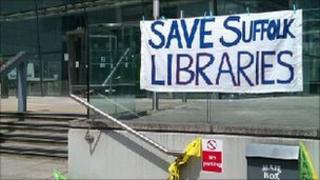 Campaigners have told a council meeting that proposals which threatened to close public libraries was like having a "gun to our head".
Suffolk County Council's scrutiny committee looked at the current plans to form a social enterprise company to run all of the 44 public libraries.
The Conservative-run council has cut £42.5m from its budget this year.
The council originally proposed to close 29 smaller branches unless local community groups ran them.
The committee heard evidence from campaigners including Liz Williams, of readers group at Rosehill Library in Ipswich, which was one of the branches the county wanted to stop funding in its divestment programme.
Ms Williams said: "It's a process where you get 4,000 responses from the public and 30,000 signatures and you get a situation where they're divesting more than they were to begin with."
Budget cuts
The current proposal is that the council would fund a 'community interest company' to run its 44 libraries, but with the current annual budget of £8.96m reduced by 30% over three years.
Councillor Judy Terry, county council portfolio holder for libraries, said: "It's not divesting.
"What we're doing is transferring them into a social enterprise company, but the council would retain its statutory responsibilities to provide a comprehensive and efficient service."
James Hargraves, of the Stradbroke library campaign, said: "We started with the feeling we had a gun to our head, that we had to come up with a plan to run our library or it's going to be shut down.
"It's a step forward, but my question is still why don't they keep that service run by the county council because it doesn't really seem a lot different?"
Suffolk County Council's cabinet will look at the latest recommendations on Tuesday, 19 July.