Arrests after robbery at jewellers in Ipswich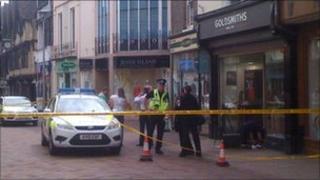 Three men have been arrested by police who are still hunting a fourth man following an armed robbery in Suffolk.
A gang on motorcycles held up Goldsmiths jewellers in Tavern Street, Ipswich at 1000 BST.
Suffolk Police said staff were threatened and some watches were stolen. The motorcycles were later found abandoned in Dale Hall Lane.
Officers said a forensic examination of the motorcycles was now taking place and the area had been cordoned off.
A sledgehammer, which is thought to have been used in the robbery, has also been recovered.
A 21-year-old man from the Upminster area, a 25-year-old man from Loughton and a 24-year-old man from north London are being questioned by Suffolk Police at the Ipswich Police Investigation Centre.
Detectives said they were still trying to trace a fourth man.
A van, a BMW car and a Mini Cooper, believed by police to have been used as getaway vehicles, were found near Marks Tey in Essex.