Blythburgh White Hart pub shop threatened with closure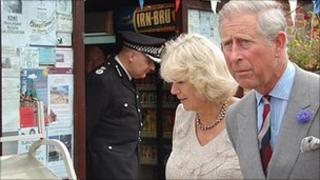 A village pub's shop and post office, which Prince Charles praised, is threatened with closure.
The tenant landlord of the White Hart in Blythburgh, who did not wish to be named, said it was losing money and he wanted to focus on running the pub.
A previous landlord built the store in a converted coal shed and signed up to the Prince's Pub is the Hub campaign.
The pub is owned by Adnams brewery, which now has to find someone to run the store or it will close.
Heidi Rae, who has worked in the shop for a decade, said: "Walberswick people lost their post office and they come over here and now I've had to say sorry, but we're closing.
"It's a real shame, but I'm hoping somebody will come up and take it on."
Royal visitor
Emma Hibbert, Adnams' spokeswoman, said: "The Post Office has formally been put on three months' notice and we will use that time to actively look for someone to run the store.
"No-one is lined-up to take over and if anyone is interested they can get in touch with us."
Prince Charles first visited the pub shop in 2001 and returned during a visit to Southwold in 2008.
David Tytler, chairman of Blythburgh Parish Council, said: "I was absolutely positive it was the most fantastic thing and the shop was thriving.
"There will be an outcry, justifiably, from those who do use it, but there will be one just as loud from people who don't and we don't have much sympathy with that.
"Adnams are looking for a new tenant [for the store] and if a group of villagers thought they could run it as a community shop, then I'm sure the parish council would do whatever it could to help."