Felixstowe town centre's new Triangle and shared-space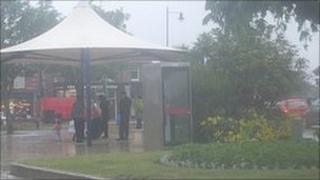 A £205,000 scheme to try to improve Felixstowe town centre has been officially opened on Sunday.
The public toilets in the Triangle area of the Suffolk town have been demolished to create a larger open space with a canopy for events.
The latest phase follows the completion of a £850,000 scheme to repave Hamilton Road creating a "shared space" for pedestrians and motorists.
Toilets have been built at the Crescent Road car park.
Andy Smith, deputy leader of Suffolk Coastal District Council, said: "We now have at the heart of Felixstowe an excellent resource that is there for the community to use and that we expect will help provide new attractions for residents and visitors alike."
The shared-space scheme on the main shopping street was completed in December 2010.
'Glorified car park'
There have been complaints about the zebra crossings being hard to spot within the new paving.
Doreen Savage, Mayor of Felixstowe and a district councillor, said: "To answer critics about it being an accident waiting to happen, in actual fact the accident rate in Hamilton Road has dropped.
"There are signs up saying it's a 20mph zone and it's based on courtesy.
"When it was a glorified car park, it was a blackspot and that was one of the reasons why the scheme got approved in the first place."
Andrew Rowden, chairman of Felixstowe Chamber of Trade & Commerce, said: "It's taking its time for people to understand the scheme because it's pedestrians and motorists literally sharing the space, but we think it's fantastic.
"We are trying to get new signage [for the zebra crossings] but you're never going to please everybody."