Suffolk County Council to appoint interim chief executive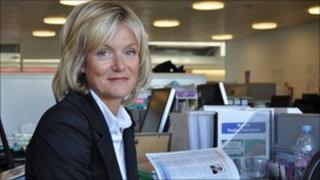 Suffolk County Council is to appoint an interim chief executive after the last holder of the post Andrea Hill accepted a six-figure pay-off to step down.
On Monday it was announced Ms Hill is to receive £218,592 under the deal, equal to a year's salary.
An investigation found no evidence to support allegations that she had bullied and harassed staff or dishonestly claimed expenses.
The council said it would appoint a full-time chief executive later.
Mark Bee, the Conservative-controlled council's leader, told BBC Radio Suffolk: "I think it is important that we move very quickly on this.
"We don't want there to be any sort of vacuum or any sense of drift.
"It is an important message both internally and externally that we are getting on with business."
He said it would give the council time to properly go through the process of appointing a permanent successor to Ms Hill.