Suffolk Wildlife Trust opens new Bradfield Woods centre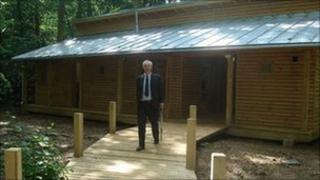 Suffolk Wildlife Trust (SWT) has opened a new £135,000 visitor centre at one of its historic woodlands near Bury St Edmunds.
The Bradfield Green Oak Centre has been built at Bradfield Woods, which covers 177 acres (72 hectares).
Records show the woodland has been managed and coppiced since 1252.
Julian Roughton, SWT chief executive, said: "You do have to have some basic facilities and this gives us a wonderful base."
Work began on building the centre in March to replace the old shed. It sits on oak stems on the ground and no foundations have been dug.
The frame is built from local wood and the aim was for the construction to be carbon-neutral.
No concrete
Steve Aylward, SWT's projects manager, said: "The aspiration was to have a centre with more carbon locked-up in the fabric of the building than was used in its construction.
"It's a difficult thing to measure, but we used locally-sourced materials with no concrete, gypsum plaster or other materials which use a lot of energy in their manufacture."
It will be used by SWT to provide information and run educational courses with schools and the local community to complement the existing craft area.
Mr Roughton said: "It blends in with the wood with lots of natural light and when you're in the building the green-ness of the wood soaks through so that you feel very much part of the wood.
"We've got great links with craftsmen who use the products of Bradfield Woods and we hope those people will bring those skills to new people who want to learn about making hazel hurdles and those sorts of things."
The designer Ralph Carpenter, from Medici Architects of Hartest, said: "Seeing it finished is wonderful and you actually feel that you've got the answer right.
"Working for a charity like this is particularly rewarding because you sense there's a lot of enthusiasm and people are prepared to push the boundaries for it."