Latitude boss rejects Michael Eavis claim that festivals are finished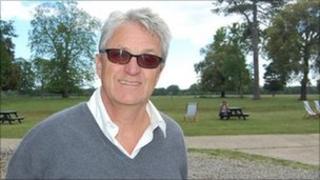 Glastonbury founder Michael Eavis was wrong to suggest UK festivals are "on the way out", says Latitude festival's organiser.
Melvin Benn was responding to Mr Eavis's comments that Glastonbury could end within four years because of the economic climate and public apathy.
"We're very good friends and one of the great things about [that] is knowing when he's wrong," said Mr Benn.
A Glastonbury spokesman declined to comment on his remarks.
Mr Eavis made the comments in an interview with The Times, saying that other festivals will struggle to sell tickets and explaining Glastonbury only sells out because of "huge headliners", like U2 and Beyonce.
However, Mr Benn, who also promotes the Reading and Leeds events, said the festival season was now part of "UK cultural life".
'Tough climate'
"Latitude sold out last week, Reading will sell out, Leeds will sell out," he told the BBC at Latitude, which took place at the weekend at Henham Park, near Southwold.
"It's a tough economic climate but I think the festival industry is booming."
He is also involved with managing Glastonbury, which will take a year's break in 2012.
"At Glastonbury we work on more of a four-year cycle, because there's normally four years on and then a fallow year," he said.
"I guess Michael is looking at it in that context. I promote more festivals than anybody else in the UK so I guess I've got some right to think that I should have a view too - and it's very different.
"Festivals are the most incredible value for money for the amount of bands that you can see."
Mr Benn said preparations were already underway for next year's Latitude Festival.
"Myself and Jon Dunn (Latitude's music booker) were talking about headliners for next year and have already been chatting with a couple of people - and I talked to someone today about the Sunday lunchtime slot for next year," he said.