Suffolk County Council could pay Andrea Hill replacement £160,000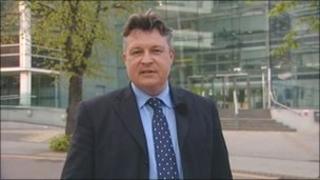 The new chief executive of Suffolk County Council could be paid £60,000 less than Andrea Hill.
Leader of the council Mark Bee will suggest that Ms Hill's replacement is paid close to £157,000 a year, with performance-related bonuses on top.
"I want Suffolk to be seen as lowering the bar on high salaries for chief officers," said Mr Bee.
Liberal Democrat leader Kathy Pollard said the wage should be no more than £160,000 and without bonus incentives.
Ms Hill, who was on a salary of £218,000, stood down as chief executive earlier in the month.
Mr Bee said the Conservative-led council was interviewing applicants for the interim chief executive role on Monday, with the successful candidate to begin work on 1 August.
"At the same time we're looking at the new chief, and we want that role to move on very quickly so there is no time lost," he said.
Cutting the cloth
Mr Bee said the actual wage for the full-time chief executive would be decided after "cross party discussions".
He wants the package to be attractive enough to lure "the best people to come work in Suffolk" but insists it would not be as much as that paid to Ms Hill.
"It will be a lot less," he said. "What I don't want it to be is anything over £200,000.
"We see this very much as lowering the bar and sending a very clear signal that we now have to cut the cloth accordingly, and that starts at the top."
Ms Pollard said: "The county council has got out of step with public opinion in Suffolk and it's just seen as being far too much to pay, when you've got half the people in Suffolk earning less than £17,500."
"We ought to think around £150,000, and anything above £160,000 would certainly be too much.
"And you shouldn't really have bonuses. Why have them? We didn't offer bonuses in the past."