Stowmarket travellers site could be bought by council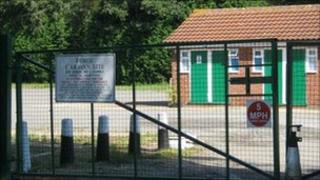 Planners are seeking to buy a private travellers site in Stowmarket by pursuing a compulsory purchase order.
Mid Suffolk District Council said it needed to offer more plots and it wanted to improve the Forge Caravan Site on Combs Lane.
A council spokesperson said: "We have had concerns for a number of years about the condition of the facilities and the way in which it is managed."
The current owner of the site declined to comment on the issue.
Planning permission to use the land for caravans was given in 1982.
'Glowing examples'
A council spokesperson added: "We have continually tried to work with the current owner to bring the site up to a suitable standard but after unsuccessful negotiations, we applied for a compulsory purchase order (CPO).
"By purchasing the site, we will work with a housing association to bring the site up to the standard it should be."
Jake Bowers, a reporter for Travellers' Times magazine, said: "Nationally there's a shortage of about 4,500 plots.
"One thing you can say in East Anglia is that there are some glowing examples of what can happen when councils and people from the local communities work constructively together."
The council said the CPO hearing, carried out by the government's Planning Inspectorate, was expected to take place towards the end of the year.