Free school uniforms at East Point Academy in Lowestoft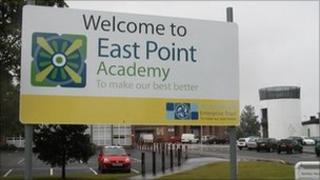 A new academy in Suffolk is spending £50,000 on school uniforms for its inaugural batch of pupils.
East Point Academy in Lowestoft will begin its first term in September, having taken over from the Suffolk County Council-run Kirkley High School.
About 1,200 pupils will be given a pack including a blazer, tie, two shirts or blouses and a sports top.
Each pack is worth about £60. Future pupils enrolling at the academy will have to buy their own uniform.
Mike Barnett from Academies Enterprise Trust, which sponsors the academy, said parents should not be "financially disadvantaged" by the move to an academy.
"A new and important part of the set-up of an academy is to establish new identities, to make them [the pupils] look different.
"To that extent the government helps to finance the move towards these new uniforms by providing grants so that anybody moving to the East Point Academy in the 11-16 age range will get free uniforms as part of that change - so everyone looks smart and as good as they possibly can from day one."
Kirkley High School pupils were required to wear a uniform, but a blazer and tie were not part of it.
"We worked very closely with the students, asking how they would like to look when they become students at the new academy," said Mr Barnett.
"We listened to what they had to say and what we have produced is a style of uniform in colours and a logo that they helped design themselves."
East Point Academy was unavailable to comment.