Iceni Project given £25,000 from London Road audiences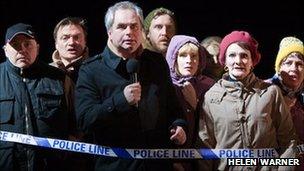 The Iceni drugs rehabilitation charity has been given a £25,000 donation, collected from audiences of a play about the Suffolk murders.
Collections were made at performances of London Road at the National Theatre.
Brian Tobin, director of the Iceni Project, said it was an "absolutely staggering" amount of money to receive.
The bodies of Gemma Adams, Tania Nicol, Anneli Alderton, Paula Clennell and Annette Nicholls were found over a 10-day period near Ipswich in 2006.
Steve Wright, who lived in London Road, Ipswich, was jailed for life for their murders in 2008.
Mr Tobin had met some of the victims in his role with Iceni, based in Ipswich.
He said: "We're going to spend this money on the most vulnerable people in Ipswich and that's going to be including preventing young women from becoming tomorrow's prostitutes and drug addicts."
The play had proved controversial, with the mother of Ms Nicol and Ipswich MP Ben Gummer amongst those to question its purpose.
"I think people misinterpreted the premise of what the production was about," said Mr Tobin, who saw the play twice.
"It's really about the residents of the London Road area, whose lives were blighted for many years previously by the street prostitution that occurred in Ipswich. They came under the microscope because of events in late 2006 and the play is a real true depiction of what their life was really like for them.
"I look there now at a reborn community, a renewal of civic pride in an area that was blighted for many years. The resilience comes out loud and proud in the production."
Playwright Alecky Blythe said she visited Iceni and spoke with clients when researching the production.
"I was very touched by their stories and we felt like this was the right thing to do," she said.
"I don't think any of us thought about how much we might collect but I never would have imagined it would have been anything like that. Because the play used real people's words there was something very touching about it.
"Nobody is asking for any sympathy, it's not like a writer has set out to manipulate anyone's emotions. It's a story told honestly and people are moved by it."
Ms Blythe said she hoped London Road would be staged again but that nothing was confirmed.
Related Internet Links
The BBC is not responsible for the content of external sites.