Suffolk County Council's David White took his own life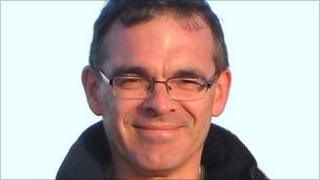 An inquest into the death of a senior officer at Suffolk County Council involved in controversial cutbacks has found he took his own life.
David White, who had worked for the authority for more than 20 years, was found dead in Butley Woods, near Woodbridge, Suffolk, on 4 April.
The hearing was told Mr White was under intense pressure as cuts were made.
Mr White's manager, chief executive Andrea Hill, had attracted criticism over her £220,000 salary.
Father-of-two Mr White, 51, of Rushmere St Andrew, Suffolk, was head of legal services at the council.
His death sparked an independent investigation into the alleged "domineering" management style of Mrs Hill.
She has since been cleared of any blame but left the council by mutual consent.
'Unable to cope'
An inquest at the IP-CityCentre building in Ipswich heard Mr White had played a key role in overseeing a 30% cut to council budgets and had raised concerns over the integrity of consultations over the cuts.
In a suicide note read to the inquest, Mr White wrote: "Dear Andrea, I just wanted you to know that my death is not in any way or sense directed at you personally or meant as a comment on your leadership of the council or the new strategic direction.
"It is simply that I have been unable to cope with the demands being placed upon me."
Eric Whitfield, who was assistant director of scrutiny and monitoring at the council but left shortly before Mr White's death, said Mr White had worked diligently on the cuts programme.
Mr Whitfield said Mr White had raised concerns with him about the propriety of some decisions.
In particular he felt a consultation on libraries was conducted on the basis the council would retain 15 when it had been decided only eight would remain open.
He was also concerned that Mrs Hill's plans to make appointments under delegated powers would be unlawful and he felt "uncomfortable" raising this with her.
It later emerged that he had drawn up a will, witnessed by his neighbours, the day before he took his life.
Peter Dean, Greater Suffolk coroner, recorded a verdict of suicide, saying it was clear Mr White understood the consequences of his actions.