Lowestoft Sixth Form College opens with over 550 pupils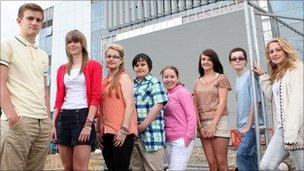 Lowestoft Sixth Form College is opening with over 550 pupils for its first academic year.
It is thought to be the only new sixth form to be built in Britain this year.
The £25m college replaces the sixth form provision at the town's three state high schools, but other schools' pupils can apply to go there as well.
Principal Yolanda Botham said: "What we can bring to Lowestoft is aspiration and we need to enable our kids to think beyond where they are now."
Until the end of last term, Kirkley, Benjamin Britten and The Denes high schools shared their sixth forms, but it meant pupils had to travel between the three sites for different lessons.
The schools will now only provide education up to year 11 and then pupils who want to continue with A levels or BTECs will go to the new college, which is on Rotterdam Road.
It has capacity for over 1,000 pupils, but for its opening term the college has 430 enrolled in year 12 and 125 in year 13.
Earlier this year, Suffolk County Council figures showed that at 9% Lowestoft had a higher than average proportion of 16 to 18 year olds classed as "Neets" - not in education, employment or training. The national average is 6%.
The college describes itself as representing a "significant investment in an economically-challenged area of low aspiration".
Ms Botham said: "We want our students to aim high and also feed back to the community and we'll be encouraging volunteering."
Joseph Jacob, who went to Benjamin Britten High and will take A levels in IT, art, media and geography, said: "I chose Lowestoft because I was excited about the facilities this college offered.
"I want to be a 3-D animator and make films and with a new college comes new technology and that's what I'm into."
Related Internet Links
The BBC is not responsible for the content of external sites.