Bury St Edmunds armed robbery: Man charged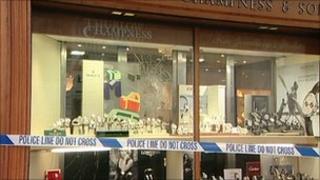 A man has been charged in connection with an armed robbery at a jewellers in Suffolk.
Four men wearing black motorcycle helmets raided Thurlow Champness jewellers at Abbeygate Street, Bury St Edmunds, but were stopped by a member of the public.
A 33-year-old from London has been charged with conspiracy to rob the store on 28 February.
He is due to appear at Bury St Edmunds Magistrates' Court next month.