Lowestoft Players in new Marina Theatre deal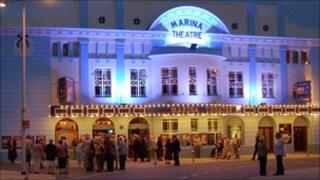 An amateur dramatics group which feared it was being priced out of the Marina Theatre will continue to put on shows at the Lowestoft venue.
The Lowestoft Players said they would have to quit the theatre if the new Marina Theatre Trust significantly raised the cost of hosting productions.
The two parties have now agreed a financial deal which means the Players will present two shows in 2012.
They will then meet again in the spring to discuss future arrangements.
Nick Garrod, who helps manage the group, said: "The Lowestoft Players are delighted that we've come to an amicable arrangement with the Marina Theatre."
The group will stage Cinderella and the Sound of Music at the theatre early next year.
'Extremely generous deal'
"The essence is trying to encourage customers into the auditorium so we can both earn some revenue out of it," said Mr Garrod.
"We've had tremendous support from the public and we're very grateful for that."
The Marina Theatre Trust, which is in the process of taking control of the theatre from Waveney District Council, said the Lowestoft Players had agreed to provide extra resources to help with some of the fixed costs of hosting productions.
A joint statement said the new arrangement would involve "fair contributions by both parties to the building, staffing, technical, operation and marketing costs necessary to stage Lowestoft Players productions".
Martin Halliday, chief executive of the trust, said: "All the trust are absolutely delighted that we've had an opportunity to meet with members of the Lowestoft Players, fully explain the deal that was on the table and reach an agreement.
"In industry terms, the deal that has been struck is extremely generous to a local amateur organisation but we're absolutely delighted that we've got an agreement.
"We feel that it's a more viable option than we've had in the past and now we look forward to working with them in a new relationship."