Peter Aldous MP takes seagull debate to Parliament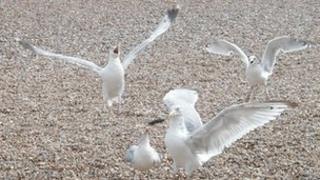 A Suffolk MP is to speak in Parliament about the problems posed by seagulls.
Peter Aldous, Conservative MP for Waveney, is to lead the debate, titled Seagulls in Coastal Towns, in Westminster Hall on Wednesday.
Mr Aldous had previously signed an Early Day Motion highlighting the birds' impact on councils, businesses and members of the public.
Residents of Aldeburgh and Lowestoft had complained about large numbers of the birds.
Aldeburgh town councillor Celia Leggett said the problem was partly caused by humans feeding the seagulls.
Littering fine
She said: "We put up signs on the seawall asking people not to feed the seagulls.
"It's actually considered a littering issue so if you're caught feeding the seagulls you could be fined for littering, which could be a fine up to £2,500.
"Apart from anything else, if a seagull snaps your finger you will know about it because they have very sharp beaks."
Ms Leggett said that culling of the birds had been ruled out in Aldeburgh.
"We found that herring gulls are on the RSPB red status list as being in decline and the lesser black backed gull is on the amber list, so we found that culling wasn't really an option we could pursue," she said.