Suffolk Wildlife Trust's Oulton Marshes get landfill tax grant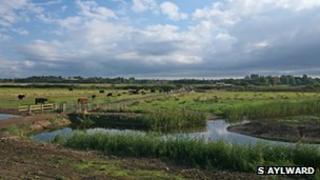 New fenland wildlife habitats are being created near Lowestoft using funds from the landfill tax credit scheme.
Suffolk Wildlife Trust has a grant of £4,000 to create four ponds at Oulton Marshes.
The aim is to provide the conditions to attract the Norfolk hawker dragonfly, greater water parsnip and birds.
Matt Gooch, warden at Oulton, said: "By creating more of this exceptional habitat we expect the reserve to become more enriched as a result."
Suffolk Wildlife Trust said the ponds will provide feeding grounds for bittern, water rail and lapwing.
Mr Gooch said: "Shallow peat diggings, or turf ponds, were created in the Broads in Victorian times to provide fuel or improve the quality of the reed and sedge harvest.
"When these ponds were allowed to recolonise, they proved a rich source of diverse vegetation and today the most species-rich areas tend to be found where turf ponds were once dug."
The money comes from Biffaward, which is a fund which uses landfill tax credits donated by Biffa Waste Services.